The Edinburgh Arms Men's Individual Darts League
The Edinburgh Arms Men's Individual Darts League
Welcome to the site. All the results and statistics can be found here.
News Report
LEAGUE RULES 2016
01/12/12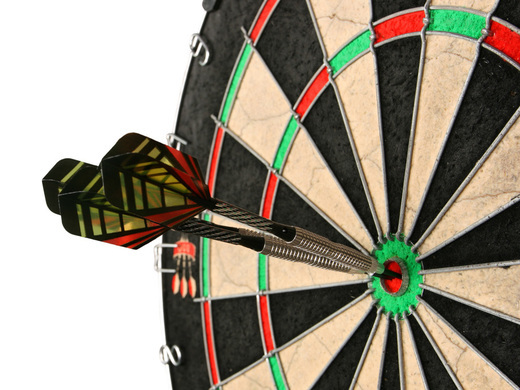 1. Constitution
i. The league will be known as "The Edinburgh Arms Men's Individual Darts League"
ii. These rules are to be distributed to all members of the league.
iii. The rules contained within this rule book are to ensure the smooth running of the league; they apply to all individuals within the league and will be enforced by the committee.
iv. An Annual General Meeting will be held prior to each season, where each player will be allowed to vote on matters arising. In a situation where major changes are taking place a referendum of all participating players is required.
v. Any complaints must be put in writing to the League Secretary.
vi. The League Committee's decision shall be final in all disputes. Any penalty (points deductions) imposed by the Committee will be deducted immediately. The Committee can impose a ban on any players failing to complete fixtures or show required commitment to the league.
vii. The Committee members (elected at the A.G.M.) will meet once a season or as and when necessary to deal with any problems arising. Members failing to attend three consecutive meetings will be automatically dismissed from the Committee, and a new member will be elected in their place.
viii. All matches will be played on a standard treble 1-20 clock pattern dart board. The board shall be hung with the bull height at 5ft 8ins (1.727m) from a level floor. The throw line or oche is to be situated at a mid-point at a distance of 7ft 91/2 ins (Diagonally from the bull is 9ft 71/2 ins). It is recommended that the oche to be used is, where practicable, 3 feet in length and to be raised a minimum of one inch (1) from the floor.
ix. No player shall deliver any dart with his feet in any other position than behind the oche. Any player who breaks this rule shall first be warned by the caller/referee and any subsequent dart delivered in breach of this rule shall not be scored.
x. In all league matches, games to be 501 up (Best of 12). All games are double finish. Players will throw for bull to have the throw in the first game then alternately following this. Three points are awarded for a win, 1 point for a draw
xi. The final score should be recorded on a League score sheet and sent to your League Administrator (detailed in your pack) or emailed via a computerised scoring program (Darts for Windows, no1 or equivalent).
2. Code of Conduct
i. No player shall act in a manner which may be prejudicial to the interest or standing of the league, or which could reasonably be considered to discredit or bring the game into disrepute. Any player doing so will be brought before the league secretary initially and if deemed necessary the committee. Players found in breach can expect to be warned or in serious cases barred.
ii. All players are bound by the rules contained in this document, there are no exceptions.
iii. All players will avoid behaviour which may reasonably be construed as gamesmanship before, during or after matches. Those in breach can expect sanctions, laid out in 2.i
iv. No player will be allowed or invited to play in the league if they are playing in any other individuals? league in York or the surrounding catchment area (Selby, Marston Moor, Tadcaster etc.)
v. Players that are currently playing in any team league are invited to put names forward to play in the HSSC YMIDL
3. General Playing Rules and other issues
i. The league will consist of 3 divisions with no more than 10 players in each.
ii. The league entrance fee is £20 which must be played prior to commencement of fixtures. This payment is non-refundable.
iii. Matches are best of 12 legs, should a player reach 7 however this will end the game.
iv. All fixtures must be completed and results into your league administrator by FRIDAY 31st OCTOBER 2016. Any results not in by the end of that day will not be considered as valid, and the final league standings will not include them.
v. Games can be played at any mutually agreed venue within the York District. (Please note Tadcaster is not considered York District).
vi. All players play all other players twice and should have the off in one of their two games against every player, games are not explicitly home and away.
vii. Results can be text to league administrators in order to ensure the website is up to date. However within a week of this text a result sheet or email of spread sheet from a scoring programme (Darts for Windows, no1 or equivalent) must be received in order for the result to stand and key statistics to be kept up to date.
viii. Should a player not be able to fulfil a fixture they have arranged they must give their opponent 24 hours? notice. Any player failing to do this will forfeit the arranged fixture in question.
ix. Players are expected to play a minimum number of fixtures in a month, with 8/9 players in a league this number is set at 2 games. Failure to complete these two fixtures will result in point deductions which will begin at the end of February and be applied every month thereafter.
x. Should you fail to play any games you will be deducted 6 POINTS
Should you play only one fixture you will be deducted 3 POINTS
THERE ARE 30 DAYS AT LEAST IN EVERY MONTH DURING THE LEAGUE SEASON, THIS IS NOT A BIG ASK
xi. Playing in excess of two games is permitted and these games will be carried over into subsequent months. However ideally spreading the fixtures across the season is the best scenario. We will be providing a rough fixture list to this end to prevent too much overplay.
xii. The top four players in each division will qualify for the semi-final playoffs. 1st will play 4th and 2nd will play 3rd.
xiii. Division 2 and 3 semi-finals will be played on .....
xiv. Division 1 semi-finals and all 3 finals will be played on finals night, .......
xv. All semi-finals will be best of 13 legs
xvi. All finals will be best of 15 legs.
xvii. The player ranked higher in the league standings will have the choice of whether to throw first or second at bull to decide the off in both semis and finals.
xviii. Players should arrange a scorer between them; the league advises that 3 or more players meet up in one session so scorer is accounted for.
xix. The marker shall act as referee in all matters pertaining to the listed playing rules.
xx. The bust rule SHALL apply
xxi. If during any game a finish is called out and that finish is achieved before an error is recognised, then that will result in game or match shot.
xxii. If a finish is called out in error and the mistake is recognised before the throw is completed, the player may retrieve his darts and throw again. If all three have been thrown then those darts will count.
xxiii. Game shot called by the referee is only valid if the darts thrown achieve the required score and remain in the board and are retrieved by the player throwing them or the players have shaken hands in the event of this ending the game.
xxiv. At no time must any indication of a required double be given by a marker or referee, they may only give indication of the points scored or points remaining.
xxv. On finals nights individuals playing in semis and finals are asked to wear black trousers and shoes, though this is not compulsory.
xxvi. Player's shirts are permitted to display any sponsors backing them during the season and on finals night.
Follow the site to get the latest news and results straight to your email